A training bench is the basis of any strength training
A training bench offers many exercises during weight training. View an overview of the best benches on the market here.
The optimum enhancement for your intense free weight training at home- extremely robust, super compact, and easily adjustable

If you're searching for that real "gym feeling" while training with free weights at home, then look no further! The Inspire FT

€ 449,-

Compare

High & Low Pulleys allow you to exercise your back,arm and shoulder muscles. High strength,nylon coated aircraft quality (2200 Lb. test) cable for safe,strong workouts. Includes Lat Bar, Low Row Bar and two cables. 83" high attached to bench.

For use w

€ 205,-

Compare

Are you looking for that "actual" gym feeling?
The seat cushion and back rest are exceptionally wide and equipped with thick, premium upholstery for ultimate comfortability. The high quality, faux leather makes cleaning the bench a cinch, preventing any

€ 399,-

Compare

The new FID46 is based on a heavy gauge 3inch round stock steel mainframe, with a 9-position seat and back pads that are a full 2¾inch thick and will never bottom out. Perfect for all types of barbell and dumbbell exercises, the FID46 works great in Power

Inclusief Leg Developer

€ 395,-

Compare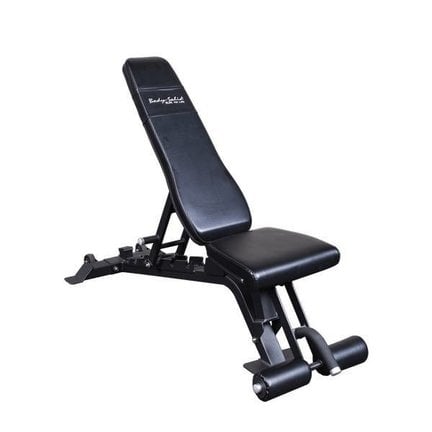 A training bench immediately offers more different possible exercises during weight training. Perform exercises such as dumbbell press, incline press, shoulder press or various rowing exercises such as dumbbell row. In combination with a set of dumbbells you actually already have all the resources at home to perform a full strength training.
Different types of training benches

The benches can be divided into four different types:
Flat training benches, also called flat bench
Incline training benches, benches that can be tilted upwards so that you can press dumbbell or shoulder press obliquely
Flat / Incline / Decline (FID) benches. You can adjust these training benches flat, tilted up (incline) and tilted down (decline).
Utility stool, which are benches with a fixed handrail in 90 degrees.