Find here your overview of dumbbells
Effectively strengthen your muscles with loose dumbbells - regardless of your fitness level. From vinyl dumbbells to permanent professional dumbbells.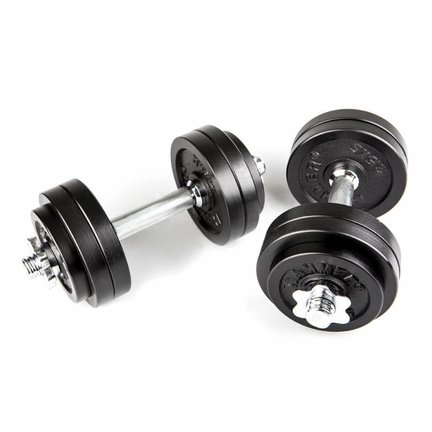 Train your entire body - the wide range of weight allows you to alternate heavy exercises such as shrugs and lunges with exercises such as triceps extensions and curls, the dumbbells are extremely multifunctional.
Different types of dumbbells
The most famous dumbbells are the dumbbells as you know them from the gym. Fixed dumbbells from 1 kg up to sometimes 50 kg. Buy a storage rack and you have a complete wall full of all the various weights you want. In combination with a training bench you can get started right away and perform a full full-body training when it suits you.
In addition to the fixed dumbbells, you can also do vinyl dumbbells. These are often dumbbells that do not have such a high maximum weight because they are more intended for pump exercises that require a lot of exercise with a light weight.
Hexa dumbbells are becoming increasingly popular
The hexa dumbbells (also called hexagon dumbbells) are becoming increasingly popular due to their angular shape. They stay well and can also be used for exercises such as push-ups. They also look tough and robust and they can take a beating because of the rubber coating.