Train easy and everywhere with a chair bike
Train fast, easy and light with a chair bike. Ideal for rehab and conditional purposes.
The Toorx Mini Bike WELLY E is an electric seat bicycle with remote control, made for rehabilitation. This seat bike helps you with pedaling from 28 to 76 RPM.

-17% Sale

119,95 € 99,50

Compare

The Toorx BRX OFFICE COMPACT is an absolute novelty in the field of exercise bikes. This is actually the first and only desk bike on the market with a really ergonomic desk so that you can use your computer while cycling.

Met verstelbaar bureau

€ 235,-

Compare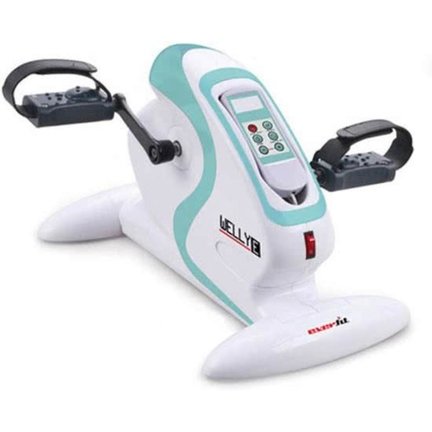 Of all the cardio machines, the smallest one is the chair bike. That in itself is the biggest advantage of the chair bike. Cause they're so compact, the chair bike is easy and practical. Not only you can use it everywhere, it's also easy to take with you.
Different kind of chair bikes
elektrical chair bikes
manual chair bikes
workdesk chairbikes (with adjustable desk)
Are chair bikes good for rehab?
Yes, mostly eletrical chair bikes are ideal for rehab. Not only cause you have the option to add resistance. But also cause it can help you with the movement.
Can you train both legs and arms with chair bikes?
Yes that's possible, it only depends on the model. If you're not sure which model you want, don't hesitate to contact us. We're happy to help.
Are chair bikes not your cup of tea. Maybe a exercise bike or even a recumbent is more for you.
Click here for our exercise bikes.